Liposuction Surgery in Pittsburgh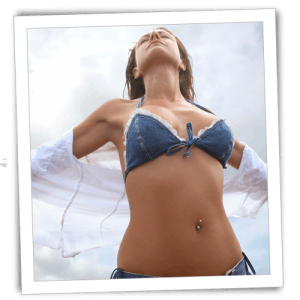 When it comes to accomplishing weight loss goals, even those who are dedicated to a healthy diet and exercise plan can find it difficult to trim and tone all areas of the body. Liposuction surgery is an advanced procedure which targets localized fat deposits, giving patients that extra push they need to achieve their ideal figure. Liposuction can be used on several parts of the body, including the abdomen, buttocks, thighs, arms, knees, neck and more. In addition, the procedure is often a part of other body contouring surgeries such as male breast reduction or body lift. Read below to learn more about liposuction in Pittsburgh and Greensburg, and contact Dr. Francis Johns today at 877-245-6467 to schedule a consultation.
Procedure Candidates
The ideal liposuction candidate is someone who is at or near their goal weight, but is unhappy with the appearance of stubborn fat deposits on various areas of the body. Pittsburgh liposuction patients should be in good health and should not smoke, as smoking increases the risk of surgical and post-surgical complications. Finally, it is important that patients have realistic expectations regarding the outcome of the procedure. While liposuction is a fat removal technique, it is not meant to substitute for weight loss surgery, or take the place of a healthy diet and exercise regimen. During a comprehensive consultation, Dr. Johns will evaluate the patient's candidacy for liposuction, make treatment recommendations and address any questions or concerns that may arise.
The Liposuction Procedure
The liposuction procedure will vary from patient to patient based on the amount of fat being removed and the area being treated. The procedure can last anywhere from one hour to four hours. Dr. Johns perform liposuction on an outpatient basis at his state-of-the-art ambulatory center in Greensburg, PA. Patients who are undergoing a large-volume procedure may require an overnight stay. During liposuction, Dr. Johns injects a saline solution into the treatment area, as well as a local anesthetic. He then inserts a cannula, which is a long, thin tube, into the skin to break apart and suction out fat. He also sculpts the remaining fat to ensure an even and natural-looking final result.
Recovery
Patients who undergo liposuction will experience minor swelling, pain and discomfort in the days following the procedure, all of which can be alleviated by medication as prescribed by Dr. Johns. A compression garment is worn over the treated area for at least one week after surgery to ensure optimal results. Although strenuous activity should be avoided for at least three weeks, light walking is encouraged almost immediately to promote blood circulation and faster healing times. Most patients are able to return to work within one week. Dr. Johns and his dedicated staff are available around the clock to address any questions or concerns that may arise.
Schedule a Consultation Today
Liposuction is a versatile procedure that can help men and women accomplish their plastic surgery goals and increase their self-confidence. If diet and exercise have come up short when it comes to helping you look and feel your best, contact Dr. Francis Johns to learn what liposuction surgery can do for you. During a consultation, Dr. Johns can discuss all of your procedure options, including breast augmentation, tummy tuck and more.