Male Breast Reduction (Gynecomastia Treatment)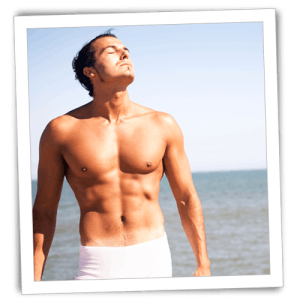 Although many people tend to think that only women are concerned about their breast size or shape, the truth is that men can become self-conscious about the appearance of their breasts as well. Men who suffer from gynecomastia, also known as male breast enlargement, often go through life uncomfortable with their appearance, particularly in social situations. Gynecomastia can develop as a result of hormone changes, and in many cases is only temporary. But when the condition does not go away, it can lead to discomfort and embarrassment for many men. When diet, exercise or medications do not solve the issue, male breast reduction is a welcomed option. Read more about male breast reduction below and contact Dr. Francis Johns at Artisan Plastic Surgery  in Greensburg, PA to schedule a consultation today.
Male Breast Reduction Candidates
Ideal candidates for male breast reduction in Pittsburgh are men who are over the age of 18 and are unhappy with the appearance of excess breast tissue. It is important that patients are in good health and have already gone through puberty, as changes to hormone levels can have an effect on breast size. Most individuals who undergo male breast reduction are patients who have not seen a change in their chest size, even with dedicated exercise. Candidates should also be at or near their ideal weight, as weight fluctuations can have an effect on the final outcome of the procedure. Male breast reduction patients should not smoke, as this can increase the risk of complications during and after treatment. During a comprehensive consultation, Dr. Johns will evaluate the patient's candidacy for the procedure, make recommendations for treatment and address any questions or concerns.
The Male Breast Reduction Procedure
Dr. Johns performs male breasts reduction at his state-of-the-art surgical facility in Greensburg, PA. The procedure is an outpatient surgery, meaning that patients are free to return home on the same day as treatment. Dr. Johns makes an incision either around the nipple or in the underarm. He then removes excess glandular tissue, fat and skin from the area. In some cases, Dr. Johns may also use liposuction to remove excess fat. After this is complete Dr. Johns closes the area with sutures and the recovery process can begin. Depending on the amount of tissue removed, male breast reduction surgery can last anywhere from one to two hours.
Recovering from Male Breast Reduction
Patients who undergo male breast reduction in Pittsburgh experience minor swelling, bruising and discomfort in the days and weeks after treatment. Patients should wear a compression garment to promote optimal surgical results. Most patients are able to return to work and participate in other routine activities within one week of surgery; however, sports and other strenuous activities should be avoided for several weeks. Dr. Johns provides thorough post-operative instructions to ensure a safe and quick recovery process. In addition, he and his dedicated staff are available around the clock to address any concerns that may arise. Although some results from gynecomastia treatment are evident immediately, it will take about two months after surgery for swelling to completely dissipate and for the breasts to take their final form.
Schedule a Consultation Today
Living with enlarged breasts can lead to daily discomfort and a diminished self-esteem. Through the use of advanced surgical techniques, Dr. Johns can help patients achieve the masculine look they desire and feel more comfortable in their own skin. If you would like to learn more about your options for gynecomastia treatment, contact Artisan Plastic Surgery today at 877-245-6467. In addition to providing male breast procedures, Dr. Johns performs breast implants surgery, breast reduction and breast lift in Pittsburgh.